Online HR & Payroll Software - Easy, Accurate & Affordable!
You have always wanted a better system in place that could simplify work, improve productivity, and streamline HR processes. Now, there are no more excuses for putting up with messy spreadsheets and broken processes.
Greytip Online is exactly what your business needs and that too without raking up constraints like budgets, lack of time, or expertise! It sounds like something straight out of Ripley's but listen to hundreds of our customers and they will vouch for it. Or take our free trial and you will wish you were on Greytip Online much, much before...
Our Cloud HR software eliminates the need for IT management in terms of IT staff, servers, security, backups and AMC. It enables anytime, anywhere access using just a web browser for business owners, HR administrators and employees alike.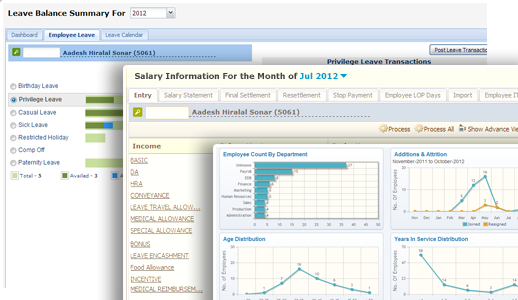 Experience the benefits:
Employee Administration
Payroll Management
Leave Management
Attendance
Document Management
90+ Reports
Employee Self Service
Expense Claims
Events & Reminders